The Luna's Trail Venue
See the video:
Take a 3D Tour: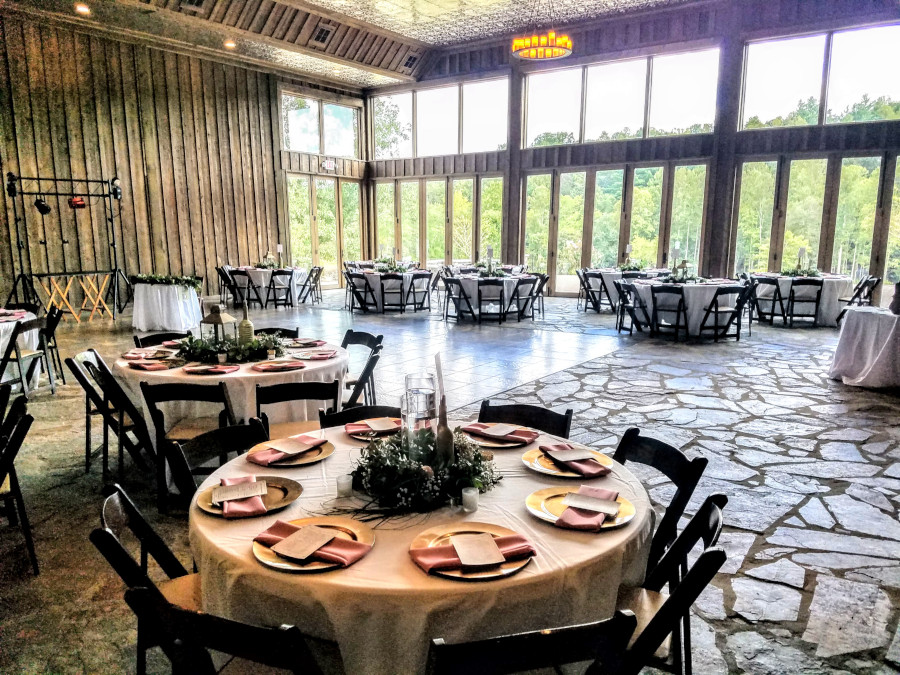 Please see below for a lot more photos.
Intro to The Venue…
Set on the bank of a lake and also overlooking one of our favorite views of a meadow on the property, the Venue is the original gathering area at Luna's Trail. Originally built as a pole barn, the venue has the rustic feel which fits in with the rest of the farm. However, it is equipped with heating, air conditioning, audio visual equipment, a portable stage, dance floor, 4 bathrooms, outdoor pergola with hanging cafe lights, and 3 separate fireplaces, including a large fire pit on the back patio. We are happy to be able to provide catering services to the convenient caterer's kitchen. There are smaller areas for more intimate gatherings, but there is enough space to accommodate larger celebrations. The richness of the warm, wooden walls, the singularity of the tin ceilings, and the natural light from the glass windows create a venue with an elegant, vintage appeal. Come for a tour, and we can also show you several sites with views of Hanging Rock and Pilot Mountain. First class overnight lodging for groomsmen and bridesmaids are also available!
Please contact us via email in order to discuss pricing.  We do have separate pricing available for ceremonies held on days other than Saturday, pending availability, as well as special pricing for January and February events. 
Business meetings, birthday parties, and reunions, if held on days which are not typical for weddings, or if held in the off-season, typically rent for a lower price, which is dependent on the size and complexity of the event.  
***Prices discussed at site visits will be honored for a minimum of 3 months from the date of the visit, but, otherwise, all prices are subject to change at any time.
Call us now at (336) 351-2052 or email at office@lunastrail.com, and we'll discuss your next event!
CHECK AVAILABILITY HERE