We are a few weeks away from the first September wedding, and the big barn is practically finished!  All we lack is installation of the audio visual equipment, a thorough cleaning, and for the tar and graveling of the road to be completed. It is hard to believe the venue construction is coming to an end, considering all the time and hard work that our contractor, the builders, painters, electricians, landscapers, pavers, floor tilers, as well as my family have all invested in this place.  We have had an amazing group of people help us throughout this endeavor, and for them, we will be forever grateful.
When you drive up to the venue, the first thing that you may notice are the three 100 year old stained glass windows. The front porch has eight rockers which look out onto the bass and brim filled lake. Once you enter inside there is a gas fireplace, antique golden chandeliers, rough cut wooden walls, and a warm, chestnut aged wood floor (that you would never guess was laminate flooring). The indoor men's and women's bathrooms are a unique conglomeration of light blue tile, brown wood, and rusty, old corrugated tin salvaged from American barns.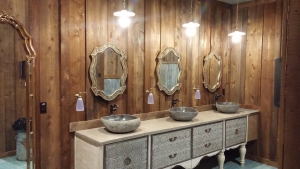 When you walk out the door at the back of the main room, you enter the 2500 square feet covered patio, which boasts my favorite aspect of the entire venue–the brilliant shiny tin ceiling. Three pillar candle chandeliers are suspended from the tin ceiling to help create a soft, welcoming light. After you walk out of the covered patio onto the open patio, you will notice the fire pit, and row of chairs and benches; all which provide an excellent place for looking out into the wildflower filled meadow.
If you're looking to host a spectacular event in a natural setting, we hope you will come to visit us soon!