During most of our wedding venue tours, the brides usually lay claim to the House Barn, which is the original cabin down by the lake.  After that, there is an awkward pause during which there is a token effort to plan where the groomsmen will be able to get ready.  In an effort to make things flow more smoothly, we've made an area to accommodate the groomsmen, complete with pool table and large screen TV!  It's called the Watch House, mostly because it's located right at the entrance of the property so you can see who's coming in.   It's got a large parking area, and the view of Hanging Rock is fantastic – here's a sunrise from this morning: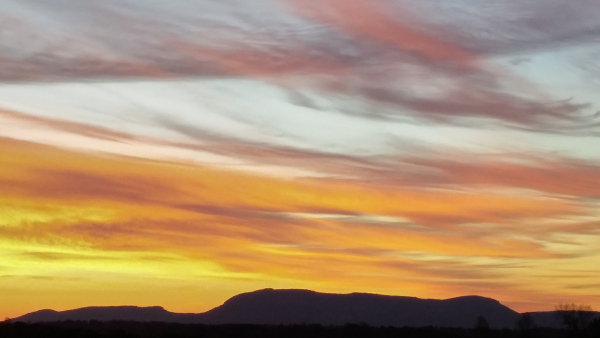 The main indoor attraction is probably the game room:
There are also 2.5 baths, a wood stove, a full kitchen, and beds for 6 (queen, queen, twins) – plenty of amenities to get ready in a relaxed, comfortable environment.
It's also right in the middle of the blueberries and blackberries, which could make for some tasty pickings, in addition to frequent deer visits!  Come up soon and take a tour – thanks.